Currency Converter
Enter amount in full numerical value, without currency symbol or commas (ex: 3000000).
Upcoming Conferences and Events
SBD Global/July 18, 2014/International Football
Germany's Özil Donates World Cup Money To Support Surgery Of 23 Brazilian Children
Germany's Mesut Özil said in a Facebook post that he is supporting the surgery of 23 children in Brazil, as a "thank you to the hospitality of the people of Brazil," according to Carmen Fishwick of the London GUARDIAN. Reports that Özil would give his £237,000 ($406,000) bonus for helping Germany win the World Cup final, and the £118,000 ($202,000) for the team's semi-final win, to the children of Gaza "were denied by the player's representative." The Algeria World Cup team "will donate" its entire World Cup prize fund to Gaza. Greece's national team rejected its World Cup bonuses, "instead asking for the money to be used to build a new national training centre" (
GUARDIAN, 7/17
).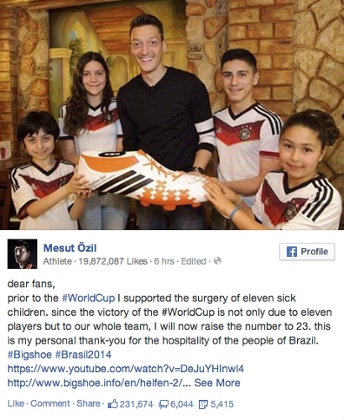 Return to top